I'm linking up with
Shannon
for the first time for So What Wednesday.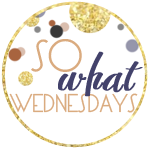 I'm saying So What if:
1. I like Wrecking Ball by Miley Cyrus. I know, don't shoot me! Even though I don't want to support her crazy antics and it goes against all my morals & beliefs, if you ignore who sings the song and the fact that the video is pretty much soft porn, it's really not a bad song!
2. Brayden cried to sleep with us until 10:30 Monday night so we let him.
3. I want to buy so many things right now! I want new boots, new clothes, and some Scentsy products!
4. Scentsy is having Monster Monday sales and I'm thinking about taking advantage of it next Monday!
5. I'm already thinking about Thanksgiving plans - it's only a month away and I need to know what the plans are!
6. I have fallen so hard off my healthy eating lifestyle and even though I've told you 3 times I need to get back on it, I still haven't.
7. Tyler and I have consumed 3 half gallons of ice cream over the past 2 weekends. Ice cream is my weakness! I could eat it for every meal and sometimes on the weekends, I do. :/
What are you saying So What to?